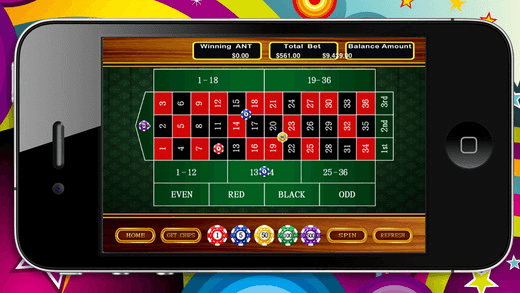 Roulette Master Wheel is a Roulette game that provides users with a 3D experience. It is designed to give players a more realistic, live experience of the game while playing the app whenever and wherever they are. With a simple premise, "All you have to do is start and bet and spin your luck." Designed by Kullapath Nillahuth with App4Play, it was released on November 1, 2014.
The game is for fun playing purposes. It is marketed as a casino game at someone's fingertips. Players can play as often as they like in the comfort of their home, or while waiting to board a flight, and so forth.
App Features
Playing Roulette Master Wheel is simple and easy to learn, even to new players that are unfamiliar with the game of Roulette. Players spin the Roulette Master Wheel and try to predict which slot the ball will land; the game may appear intimidating at first and impossible to win, but it isn't. The app makes is easy for users to gain experiences and win their bets. Players must spin it to win it, essentially.
Payoffs are simple. If a player places a bet correctly and chooses the winning slot, they receive their winning bet and payoffs. Players simply drag a betting chip from the bottom of the play screen and drop it into a slot. Then, the Roulette Wheel spins. Once the wheel is finished spinning, players discover whether their spin was a winner or not.
The app is free and available in the iTunes App Store. It can be played on the iPhone, iPad, and iPod Touch.
Game Detail
Since the release of the game in November 2014, there have not been any updates. The current version available in the iTunes store is still Version 1. To operate, it runs on iOS 7.0 or higher. It is optimized for the iPhone 5; however, it will work well on new Apple devices, such as the iPhone 6 and 6 Plus, and the iPad Mini.
The game download requires 29.6 MB. In addition, the app rating is 12+ for the games frequent and intense simulated gambling.